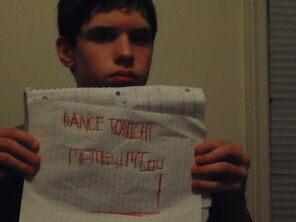 "Dance Tonight" is a song by American recording artist Matthew McCoy from his fourth studio album, Electrode. It will be released as the first promotional single from the album on October 5, 2012. It was originally to be the lead single from Electrode, but lost out to "Say My Name" as the lead single. The official single cover is to the right.
Composition and lyrics
Edit
"Dance Tonight" is a dance, synthpop, and house song of three minutes, twenty-seven seconds. The lyrics, written by McCoy, are about partying and dancing "till we see the light". The song was produced by Jandy Andrey and American House Mafia, and features prominent bass and analog synthesizers, as well as influences from other genres such as trance, R&B, dubstep, and EDM. Below is the audio video for "Dance Tonight".
Music video
Edit
A music video for "Dance Tonight" is "in the works", says McCoy. It will feature film actresses Samantha Bairos and Riley Desmarias. It has yet to be recorded, but will be "soon". The release date has not been determined either.
Single artwork
Edit
The single artwork for "Dance Tonight" is somewhat like a mugshot . Seanisaurus, famous photographer, took the picture, and said of it "This [picture] reminds me of the cover for Cher Lloyd's 'Want U Back '". The picture is of McCoy holding a sign saying the song's title and his name in large print, handwritten by McCoy. In the small print next to the word "tonight", the text says "Produced by Jandy Andrey", also in McCoy's own handwriting.
See also
Edit