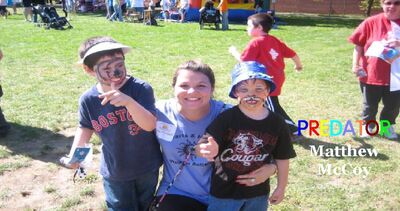 "Predator"

Released

January 1, 2012

Recorded

2011

Artist
Predator
is the first studio album by
Matthew McCoy
, expected to be released on January 1, 2012.
Eleventh Hour
, released on November 14, 2011, was the official debut release, and McCoy himself gave away 1,900,000 copies in the album's first week of sales.
Track listing/singles
Edit
At least one single will be released from Predator. The lead single, "That's Why I'm Fallin' for You", featuring Ryan Maloney, was released on December 1, 2011. The solo version of the song debuted at #12 on the M.C.I. Favorite Songs chart for the week of November 26.
Number
Song
Writer
Producer
Length
1
"Why Would I Ignore "You
Matthew McCoy
McCoy
2
"I Know You Want Me (Now)"
McCoy
McCoy
3
"Pretty Far Away"
McCoy
McCoy
4
"Until the End of the Night"
McCoy
McCoy
5
"Test Me"
McCoy
McCoy
6
"A Night on the Town"
McCoy, Alex Simon
McCoy
7
"That's Why I'm Fallin' for You" (ft Ryan Maloney/
McCoy
McCoy, Maloney
3:49
8
"Crazy Without You"
McCoy, Rocha
McCoy
9
"Feels So Right"
McCoy
McCoy
10
"Sparks Fly"
McCoy
McCoy
11
"Forget Me"
McCoy
McCoy
12
"In Your Love"
McCoy
McCoy
13
"[[Predator (song)|Predator]]

Predator
400pxpx


Type

Studio

Artist

Released

January 1, 2012

Recorded

2011

Genre

Pop, dance-pop, electropop, pop rock, synthpop

Label

Elektrik

Producer(s)

Matthew McCoy, Alex Simon,Justin Rocha, Olivia Ploude, Nistarcia Leca, Ryan Maloney

Last album

"Eleventh Hour" (2011)

This album

"Predator" (2012)

Next album

"Dance Like an Idiot" (2012)

" (ft. Alex Simon)
McCoy
McCoy
14
"Music Sounds Better with U" (Big Time Rush cover)/
Big Time Rush, Ryan Tedder, Thomas Bangtalter, Benjamin Cohen, Brent Kultze, Eric Bellinger, Frank Musker, Noel Zancanella, Alian Queme
McCoy
3:10
15
"If I Ruled the World" (Big Time Rush cover)/
Emanuel Kiriakou, Evan Bogart, Lindy Robbins
McCoy
16
"Teach Me How to Fly"
McCoy, Rocha
McCoy
17
"Until the End of the Night (single version)
McCoy, Rocha, Maloney, Olivia Ploude, Keith McCoy, Nistarcia Leca
McCoy
18
"Only One"
McCoy, Maloney
McCoy, Maloney